14 Productivity Hacks for Content Marketers Using IFTTT
What would you rather do: work smarter or work harder? There are few of us stubborn enough to say the latter—the ones who work well with their tried-and-true method of pen and paper—but for the rest of us, we choose to work smarter. Nay, we love to work smarter. We love finding new productivity hacks and trying new apps that make our lives, especially our professional ones, easier. Now if only there were some way to integrate the two; then that would be a lifesaver.
Enter IFTTT, which stands for "If This Then That" and pronounced like "gift," the everyman and woman automation software that allows you creative control to pair up your favorite products and apps to automate processes faster and maximize productivity. According to IFTTT lingo, these are called recipes—because you're "cooking" up a new concoction with each app's ingredients—and there are two types of them: DO recipes and IF recipes.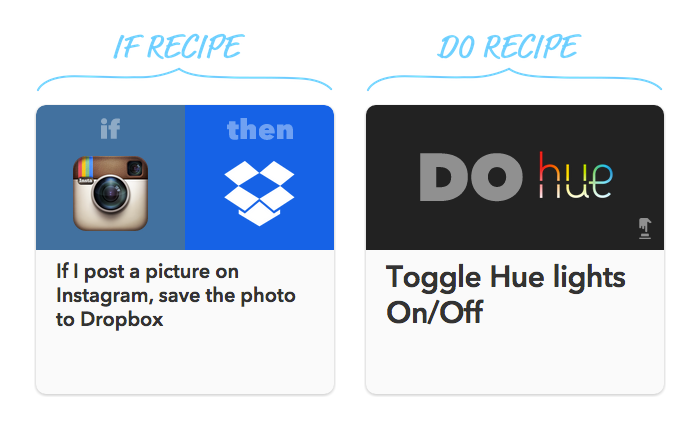 It's the IF recipes we want to focus on, as it is part of the IFTTT name. To get technical, IF recipes allow you to take channels like Google Drive, Facebook, Evernote, Trello, etc. and connect them to one another via an "if" trigger and see the action through with a then. For example: "If I send an email, then Evernote makes a copy." Or "If I'm tagged in a Facebook photo, then the photo is downloaded to a folder in Google Drive."
IF recipes allow you to play entrepreneur and product manager all at once by letting that "if" scenario come true. What if I could sync my iOS contacts to Google Drive? What if every time I'm mentioned on Twitter, I can log those tweets in a Google Spreadsheet?
Some recipes aim to increase knowledge, like this one that adds a random Wikipedia page to your Feedly subscription. Some recipes aim to amuse, like this recipe that emails you if it will rain tomorrow.  Plus, publishers like NPR, Buzzfeed, Entertainment Weekly and The New York Times are even leveraging recipes to connect their content to users via email and RSS feeds. No matter the purpose, you'll find some recipe that can help you out.
IFTTT is a godsend for content marketers, who can connect all of their favorite products and apps (which are known as channels) to one another. Below, we've gathered some of the best and most relevant IFTTT productivity hacks for content marketers. There are plenty more to browse through and experiment with, but these are the ones we think help us with our jobs the most. Without further ado, here's our list of the best productivity hacks and IFTTT recipes for content marketers.
Content Creation and Curation

A handy feature for editors planning editorial calendars in Trello, which their team has outlined how to do here, this recipe automatically create, save or publish new blog posts from directly within Trello. It saves you time and communication missteps.

You never know when inspiration for a new blog post will hit you. Don't risk losing that lightbulb moment and use this Siri to Evernote recipe. Though there are plenty of Siri to Evernote recipes, this one works the best and even offers you a handy tutorial of how to set it up through a Gmail account. No matter where you are, you can quickly tell Siri your idea and it will be added to your Evernote account.

So many ideas, so little time. Often, some of our best ideas come from reading other content and content marketing. With this recipe, you can easily add a Feedly article to your "brainstorming/content ideas" Trello board so you won't get lost looking for the article later. Note though: you need to upgrade to Feedly pro for any IFTTT integrations.
Many content marketing strategies devote their energies to writing up recaps and round-ups of live events, conferences, webinars, etc. To gather them all in one place, use this IFTTT recipe to track the highlights from a conference hashtag into Google spreadsheets to publish key takeaways. It will save you tons of time and organize your draft.
Instapaper fan? (We are.) There are over dozens of recipes to utilizing saving articles on the internet to read for later. A great curation tool, here are a few Instapaper recipe highlights:
Likewise, if you don't use Instapaper, you probably use Pocket. Similarly, there's a litany of Pocket recipes to use to save, archive and send articles and posts to the app. A few highlights:
Finally, there are a dozen or so recipes you can use to bridge the gap between Instapaper and Pocket if you happen to use both.
Social Media & Communication
Community building 101: interact with your followers! This recipe automates the process by creating a "thank you" tweet, which you can edit for the masses by promoting your latest thought leadership piece or make the message more personal for the newbie follower. At the very least, it will remind you to thank a new follower. It's kindness and thought leadership all in one!

A great way to keep your Twitter feed more visual—as Instagram is finicky with Twitter cards—this recipe works well considering the platforms traditionally don't work well together despite sharing similar #hashtag and @tagging language. Plus, it saves you time re-uploading images to Twitter.

Need to keep track of influencers and Quora power users? Turning aQuora profile into an RSS feed, this is a great recipe if you use Quora to help fuel content ideas or to know what industry leaders and influencers are up to on the platform.

When updating your profile pictures, this recipe automatically syncs the pics between Facebook and Twitter to make sure your branding stays consistent.
Note: there are plenty more social hacks and recipes to find via IFTTT's collection here.
Backup
11. Archive your social media and blog posts to Google Drive

William R. Stanek once wrote, "Information is eternal, computers are ephemeral, backup is the savior." Backups are essential for every good Internet-goer and especially any good content marketer. Hootsuite or Buffer may keep a log of your old social media posts, but if you ever decide to switch from one to the other or to something else entirely, it's hard to keep track of them. Likewise, you may have a backup of your website and its content (and if you don't, make that a top priority), but it's always nice and comforting to have an extra backup.
There are tons of IFTTT recipes that essentially backup your content by archiving them straight to your Google Drive. Some highlights include:
Best of all, you can save all of your IFTTT recipes to Google Drive so you don't lose any of those. For a full list of what you can do with Google Drive, check out these IFTTT Google Drive recipes.
Bonus

Quit Googling your company's or client's Wikipedia page and use this recipe to get email alerts whenever a Wikipedia page is updated. This is certainly useful for industry pages as well as knowing how your company—and others—is repped on the internet.

Slack, the team communication platform, has swept up the world's workforce. To stay connected and to stay prioritized, here are some highlight IFTTT recipes with Slack:
Seriously, there's so much to do with Slack you might as well automate it.

Want to help your accountant out a little bit? Using Gmail search, this recipe will locate and add receipts and orders to a receipt Spreadsheet in Google Drive. This is sure to save you plenty of time on the business side of things.
Again, these just some of our favorite productivity hacks and IFTTT recipes for content marketers. There are tons more to browse through and experiment with. If you find one you love, send it our way via Twitter @QuietlyApp or email us at info@quiet.ly
For more productivity hacks, info about content marketing and industry insights, follow us on Facebook and Twitter and sign-up for our monthly newsletter.
Image: William Iven via Unsplash