How 10 B2C brands combine e-commerce and content
As of 2016, nearly 80 percent of the US population, ages 15 and above, has made a purchase online. And increasingly, more than two-thirds of millennial consumers expect a fully integrated and seamless online shopping experience. What does this mean? Essentially, younger consumers expect a different kind of shopping experience, one in which content is pushed to the forefront of e-commerce. Research shows that adding content accelerates and mitigates the buyer's experience: approximately 90 percent of people find custom and related content useful in purchasing decisions and 86 percent of consumers are willing to pay more for a better customer experience.
To enrich this new e-commerce experience—and guide shoppers toward making a purchase—brands have created content to inform, educate, or inspire their customers in the hopes of accelerating the buyer's journey. Many of the most successful brands doing this choose to surround their products with content and vice versa in order to blend and integrate the experience. The results of this "merchandising"—as we're calling it—have been promising so far: the average conversion rate of sites with content marketing is 2.9 percent, compared to the average of sites without a content strategy (0.5 percent). To put it in another context, here are some great examples of brands who are combining the e-commerce and content spaces.
The e-commerce blog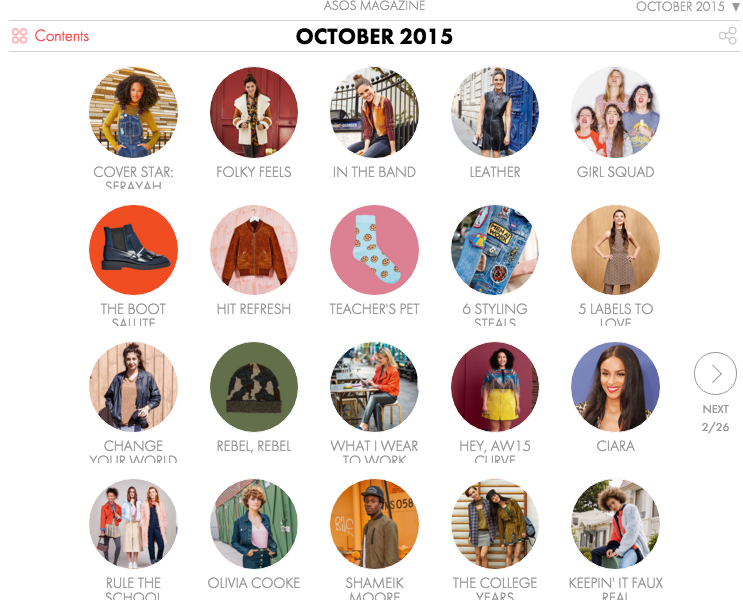 Fast-fashion brand ASOS, which stands for As Seen On Screen (profiled on the blog here), takes its name literally when it comes to its content. Every issue of its self-titled print and online publication—which has seen Hollywood starlets like Jennifer Lawrence, Taylor Swift, and Lea Michele grace the cover—features purchasable items from its websites. It's incredibly easy to directly buy the fashion products on-site and enjoy editorial on the latest fashion trends, interviews, celebrity profiles, and more.
Violet Grey is a beauty site that describes itself as "a discerning curation of beauty products, tips, and inspiration deemed essential by the industry experts who know best"—but it can also add "innovative e-commerce site" to its description. The beauty brand is known for interviewing Hollywood insiders on their go-to beauty products, which just happen to be products you can buy through Violet Grey. The beauty brand, however, considers itself to be an exclusive editorial endeavor and notes that it "operates independently of the brands it carries and will not accept payment in exchange for stocking product."
A "secure retailer of the finest cigars online" can't sell to everyone, but it does make its content for any kind of cigar lover. Famous Smoke Shop relies on interactive content to combine e-commerce, content, and cigars. Through a quiz that asks customers to pick their favorite spirit, price range, and activity, the site whips up a recommended cigar pairing. It's a remarkably simple, smart way to integrate its content and shop.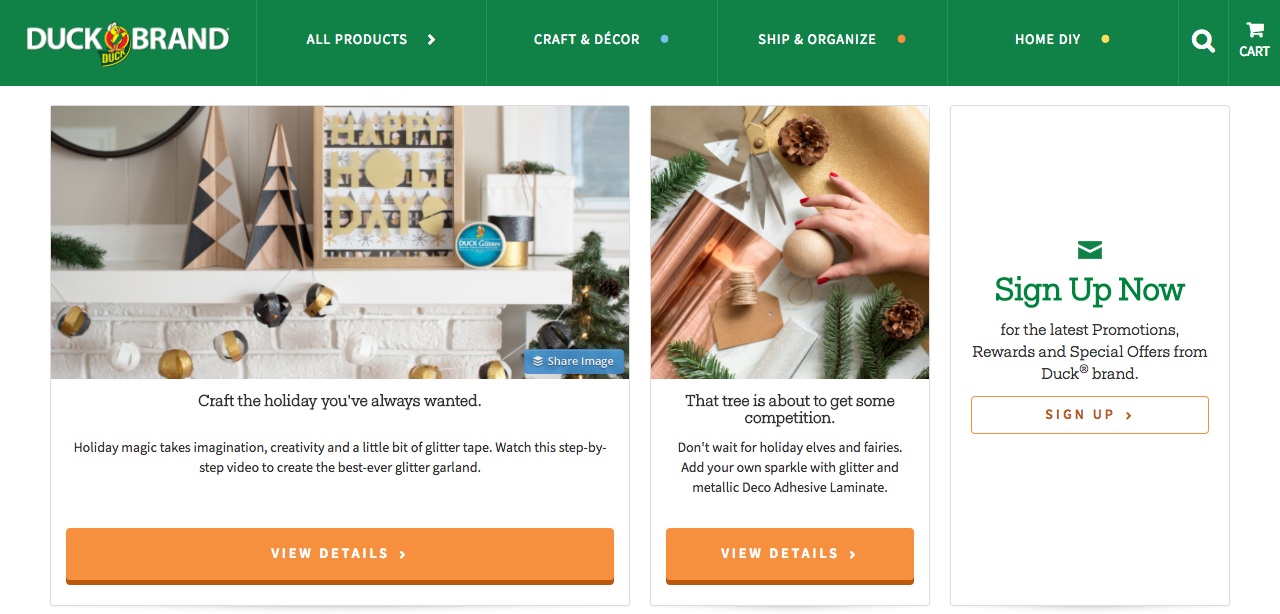 How much content can you really create about duct tape? Apparently, an infinite amount if Duck Brand's blog is any indication. Capitalizing on big holiday celebrations and other DIY tricks, the Duck Brand website doesn't differentiate between the e-commerce page and the blog, but is rather organized by category. And within each piece of content—whether it is a photo-heavy holiday DIY tutorial or a video—there is more information about Duck Brand products, which are only a click away. Of course, the e-commerce side of the site stands separately to make it easy to purchase, but Duck Brand has designed a reasonably functional, thoughtful site where content and e-commerce coexist in harmony.
Subscription boxes for products have been all the rage for awhile now, and naturally, that includes wine. Of the dozens of wine clubs, Winc is the brand known for employing a Palate Profile quiz, which asks users a series of tasting questions (how do you take your coffee? Do you like citrus?) to recommend wines for you. To see your results, you'll need to sign up, but once you do, you get a first-time user discount and are one step closer to purchasing Winc wine. It's a clever use of combining a wine palate profile and the wines Winc has on stock for a brand that bills itself as the "world's first personalized wine club."
The e-commerce newsletter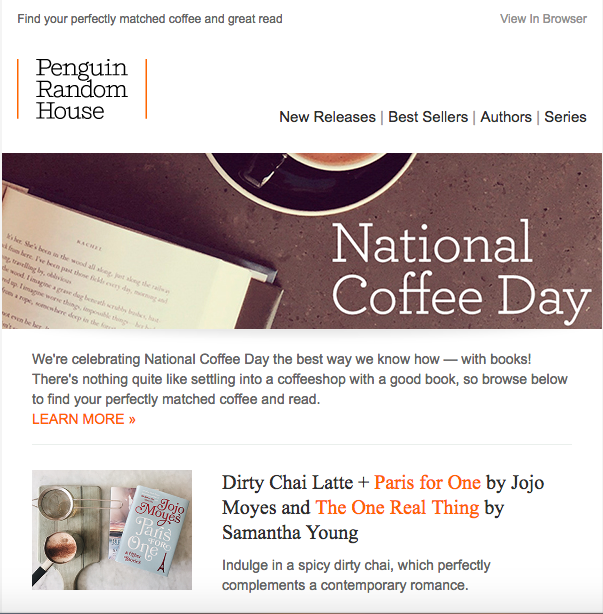 Book lovers rejoice! Penguin Random House publishes hundreds of books from hundreds of genres and subgenres each year, making them one of the largest book publishers in the world. To cater to such wide audiences, the brand sends over a dozen email newsletters almost daily for different genre lovers and more. What's impressive about these newsletters, however, is how seamlessly Penguin Random House's content team combines content with a curated list of their products. It never feels salesy, but more like a friend giving you the latest scoop on book recommendations, quizzes, and other musts for book lovers. It's a simple, effective mix that can skew content or e-commerce for any function.
The printed photo-goods company is a favorite amongst professional and amateur photographers alike, thanks to their beautifully designed and responsibly sourced materials to frame, print, and bind photographs. (That's where its name comes from.) Unsurprisingly, its newsletter is just as beloved. With an emphasis on photos (naturally), photo ideas, and stories, the newsletter offers a combination of interviews, photographs, Instagram handles, deals, discounts, and product releases all in one email. It's remarkable how clean and thoughtful it combines e-commerce and content—striking the right balance between sales and editorial.
The e-commerce of event marketing
Fashion Week(s)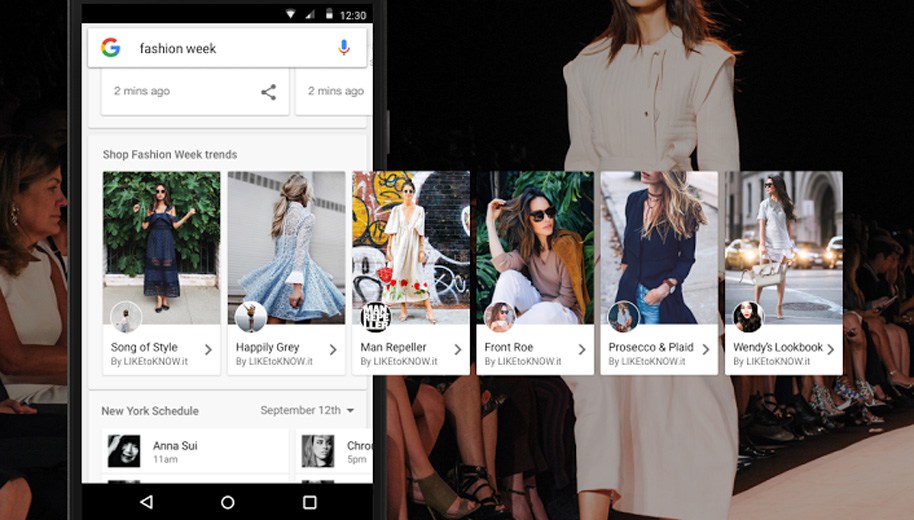 Around the world, Fashion Week is a critical time for brands and designers to showcase their new collections. In the past, customers had to wait months to be able to purchase these items in stores. Now, thanks to technology, the fashion industry has adopted the "see-now, buy-now" trend. Fashion retailers hope to engage with their customers in real-time (i.e. they need content to fuel their e-commerce).
Some have found success with social media hashtags on popular channels like Instagram, Snapchat, and Twitter. Google featured carousels curated by brands at the top of Fashion-Week–related search results. More specifically, some of the best brands to capitalize on its event marketing were New York & Company, which launched a series of curated videos featuring their latest lines only hours after the live show and made them instantly shoppable online; Tommy Hilfiger streamed their event on their website, allowed customers to buy the not-yet-released clothing on the website, and built a pop-up shop near the runway; and Diesel commissioned a shoppable short film about Japan to create hype for its Tokyo runway show. For fashion brands, combining content with event marketing is a must to draw eyeballs to their product launches and fashion lines.
The future of e-commerce and content will depend on how well marketers can integrate the two for a seamless user experience. After all, that's what consumers today expect. Much of this depends upon using data to make observations, craft insights, and move to action. That's where Quietly comes in. We can help manage the balance between editorial and e-commerce through content insights aimed at bottom-of-funnel conversions and top-of-funnel considerations.