Essential B2B content marketing trends
At Quietly, our mission is to lead the way the world creates, distributes, and monetizes content. Every day we work alongside clients like Adobe, Amplitude, Avigilon, Okta, and Slack, to plan, build, and execute on an array of content marketing programs. Over the years, this has given us a strategic vantage point from which to spot impactful B2B content marketing trends, and here is our list for 2019.
Below we've come up with 10 B2B digital marketing trends, that are fast becoming essential for our clients, as well as for leading brands and businesses.
1. Account based marketing
Account Based Marketing (ABM) is a strategy that implements highly targeted campaigns in order to reach a specific client account. This strategy is like fishing with a spear instead of a net.
ABM makes better use of your time and budget, and getting targeted with your marketing initiatives is becoming increasingly easier with advanced software and platforms like DemandBase.
From streamlining team workflows to creating modular content, ABM as a practice has helped businesses reach new levels of personalization by accurately tailoring content and messaging.
Our take 
When sales and marketing align, they become a targeted force that can more effectively win-over accounts. Rather than targeting large generic audiences, ABM's personalized marketing can cut through the noise by speaking directly to key stakeholders helping win new accounts or grow the LTV of current accounts.
At Quietly a vast amount of our client work relates to personas and segmentation, but we're seeing an increased desire for specificity. This need for more personalization over the use of generalized personas is the backbone of any successful implementation of ABM strategy. By taking a data-driven approach, one can begin conducting research to understand, learn, and launch targeted content-first campaigns that will attract the right accounts.
2. Promoting B2B content on B2C channels
A few years back, the digital marketing industry had us believe that honoring best practices meant certain platforms and channels were solely dedicated to specific types of content. In other words, if you wanted to post "professional" content to social, you needed to stick to professional platforms like LinkedIn—that's clearly changing.
People's behavior as both creators and consumers of content has evolved, and social strategies have adapted alongside. For example, in Twitter's early days no one could have predicted that it would become an important customer service channel for brands.
When done well, placing  B2B-centric content on a consumer platform can help it stand out and reach new audiences.
Our take
We're seeing brands reach professionals during their off-hours on networks like Instagram and Facebook.
In some cases, agencies have been using Instagram as a place to showcase their portfolio, strategies, and work culture, all while enticing prospective business and future hires on a platform where they willingly spend their time.
Thoughtful, smart content doesn't need to be confined to a specific channel or platform to be impactful. Capturing an audience's attention is no longer limited to owned media or traditional B2B platforms, it's about knowing your audience and knowing your channel.
3. Competing with publishers
Becoming a trusted source is all about becoming a recognized authority in your domain.
Market research firms such as Forrester, Ovum, IDC, and Gartner launch in-depth reports to exercise their influence in their respective fields, cementing their position as industry leaders in the public eye.
However, brands aren't always satisfied in letting industry analysts lead the conversation. They also want to be seen as thought leaders, and as a result, must do the same, if not better.
Competing with top-tier publishers can prove challenging, and requires a significant  investment of resources and time. However, the long-term benefits far outweigh the costs, as this type of content can effectively increase overall awareness, product adoption, and customer acquisition, all while establishing a brand as a trusted source.
Our take
Consumer expectations transcend categories. Today, enterprise customers expect brands to do as much good as Salesforce, have an app as intuitive as Slack, and create content that's as good as their favorite analyst.
The expectations are high, and to earn attention, you need to have content that's as deep and rigorous as the best minds in the industry. This often manifests as primary research and reports that are uniquely positioned to reinforce your brand's key value proposition.
4. Emphasis on brand
We're also seeing brands invest in initiatives far removed from the typical content marketing and sales funnel. From coffee table books and print magazines to podcasts and full feature movies, brands are focusing on different methods that cut through the noisy landscape.
In fact, Shopify has entered the world of TV/film production. The first wave of content will be a series of 20 to 30 minutes profiling entrepreneurs, something which is at the core of their company.
Taking it one step further, Airbnb's latest venture into the world of cinema is the release of their first feature film which will premiere at the Tribeca Film Festival. Creating content at this level not only shows Airbnb's commitment to community and diversity, but this chosen medium is sure to reach their intended audience by going beyond the usual branded marketing initiatives on owned channels.
Our take
In a highly competitive space, where technology can become commoditized, sometimes the brand is the only thing that's defensible.
As a result, how content is presented—and in some cases how it's distributed—can help a brand win the hearts and minds of key customers.
We've been helping brands merchandise their content in more interesting ways, and these methods are often expansions of what a brand represents, and are often associated with their core values.
5. Podcasts and audio
No list of B2B content marketing trends would be complete without a mention of podcasts. Podcasts remain a continuous way for businesses to share their expertise while reaching a wider audience.
Beyond podcasts, brands like Adobe are harnessing the importance of audio by creating content hubs that include sound bites alongside written content.
This pairs well with the intended audience of these podcasts and audio hubs. As the "always-on generation," millennials want to always be consuming, learning, or working on something; so if they can't read it, they'll likely to listen to it.
Our take
Hands-free daily habits and long-commutes have made podcasts an important vehicle for brands. With audio, they can position their content in front of a professional audience that's not confined to a screen. Audio aligns itself with the current mentality of working professionals who voraciously consume audio content while engaging in other tasks.
But it's more than just producing podcasts, it's about knowing how to integrate audio effectively into your marketing efforts. For example, Baremetrics doesn't just produce a pure-play podcast, with Founder's Journey they are building an audience that strategically aligns with their brand. Not only does Founder's Journey take each podcast episode and make it into a blog post (with extra commentary), but they've also created a newsletter.
6. The video stack
While video isn't new, the practice of video marketing is. From live streams to well-researched long-format video, the medium can help deliver the right message in a visually captivating and attractive format. It's also integral to many brands' B2B content strategies.
Yet simply uploading video content on YouTube is not the answer. Brands need the right  infrastructure to host, measure and track the ROI of this resource-consuming type of content.
Our take 
Whether you're A/B testing video content, or you're simply trying to manage your video content from one central location, having the right video stack can streamline your efforts and ensure their effectiveness.
Companies like Vidyard and Wistia have created platforms that help brands not only efficiently host their content but importantly, measure the ROI of their video marketing efforts. We like VidIQ too.
But knowing where to start can be overwhelming—and that's assuming you have the time—so enlisting a partner who can help implement these systems is mission-critical and will help illustrate the value of video content within your marketing initiatives.
7. Humanizing how we speak
There's more than meets the eye behind the notion of wanting your brand to sound human. Beyond knowing your audiences, the digital context should not define the voice or style of communication, it should only influence it.
So while the digital medium has allowed us to have more direct communication with our audience, evolving the brand/client relationship is about the content of our messaging—it's about having a brand personality, and doing the work to discover what that means.
Our take
Human language is crucial in contextualizing complex and technical subject matter. Injecting personality can help increase understanding and communication, all while developing strong relationships.
But if every brand wants to sound human, then it's really a matter of personality, and we spend a lot of time helping clients develop their own through sophisticated voice, tone, and style frameworks.
"Quietly has mastered the art of making technical concepts more accessible for decision makers."

Lauren Berry Sheppard, Content Marketing Manager, Brand, Okta
This approach is how Okta started to lead the conversation around cybersecurity and how Slack began to own the conversation around productivity tools.
8. Conversational content
The growth and proliferation of chatbots continues, and for good reason.
In fact, instead of using the typical funnel approach of qualifying prospects with forms, emails, and follow-ups, some online messaging chatbots operate like a virtual sales agent, qualifying prospects in a matter of minutes instead of days or weeks.
Our take
From Intercom to Drift and ZenDesk to UserVoice, speaking to website users in a timely and conversational way has become a way to create new opportunities; customers have their queries answered and businesses can learn more about prospects.
But results like these require understanding the user and speaking their language. One-on-one interactions require truly understanding the mechanisms of real conversation, and  brands need to understand how these automated systems actually work. Otherwise, they risk alienating customers and creating yet another phone tree.
9. Contributed content
The dynamics of publishers and the media is no longer about pitching publications with the hope that they run your story, it's completely changed.
Now, it's more about contributing stories to publications, and in some cases, simply paying for space. In other words, it's about giving your content to a third-party publication that would have it commissioned on their own.
If done well, a contributed content program can help a brand win in the earned media arena.
Our take
Power is shifting away from the editorial elite, allowing room for brands and personalities to contribute their opinions to trusted publications and enabling them to reach beyond their usual audience. As far as earned media is concerned, publishers don't just want to be pitched—they need inventory and want good content.
This shift has resulted in the rise of pay-to-play strategies which are blurring the lines of earned and paid media. While advertorials are recognized by discerning audiences as ads, if a piece of content is positioned as a column or has a legitimate byline, readers are likely not to care about how it was commissioned.
It's all about creating valuable, well-researched content that matches the interests of the publication's audience, while still staying true to the author's point of view and core values.
10. Employee advocacy
Communications are inherently more trustworthy when they originate from an individual, not their employer.
Put another way, people rarely follow companies on LinkedIn, but they do follow individuals that work at these organizations.
With the engagement of global employees at 13 percent, finding key employees to champion their employer through their online networks, not only impacts workplace culture, but it can help attract attention from other SMEs and can even help build up a brand.
In a digital marketplace, engaged employees are a significant asset. Leveraging the power of their social networks, employees can help a brand magnify their presence and enhance their reputation as a great employer at times, with greater more genuine influence.
Our take
A well-managed employee advocacy program can be part of a greater B2B content strategy. Employees that are engaged (and have a solid handle of their online networks) can act as superfans, and employers should learn to leverage this type of situation. It's crucial to establish a program where employees are clear on what's appropriate and make them feel like they are being provided with support to effectively publish content.
In addition to ghostwriting on behalf of specific individuals, we've helped subject matter experts land on a crucial point of view, and create longer-term content calendars so they know what to say and when to say it—all while ensuring these pieces ladder up to the overarching strategy.
Bonus trend: Content marketing as a force multiplier
Seven years ago, Altimeter's Jeremiah Owyang illustrated how the rise of digital and social media had created a converged state of media. In other words, channels that were typically quite siloed were now being fused into a more fluid ecosystem.
In the world of content, we're seeing the consequences of this. Content's role within companies is reaching far beyond the traditional marketing and communication departments.
Our take
Yes, content is playing an increasingly important role outside of marketing and communications, but we're seeing the practice of content marketing act as a force multiplier between teams, departments, and channels. In other words, a relatively small piece of content can have a much greater effect than we may originally think.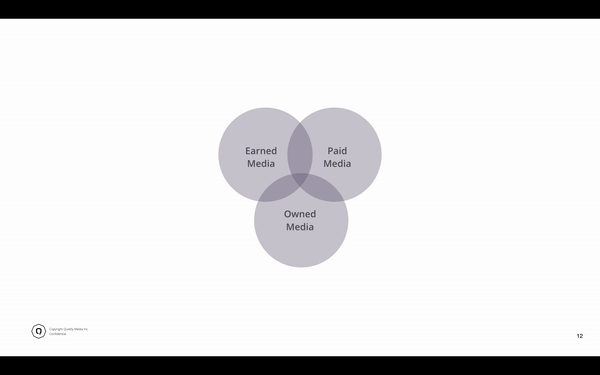 Content is playing an increasingly important role outside of marketing and communications and acts as a force multiplier.
Creating content specifically to serve different business units means content can be viewed as a critical function within a much larger ecosystem, and that means content teams should become the hub that connects all of the spokes—elevating their position within the organization.
As the digital landscape changes, it can be challenging to know where to allocate time, attention, and resources. However, focusing one's efforts on thoughtfully implemented and well-designed content can have a strategic impact on overall business objectives, and ensure the whole is greater than the sum of its parts
Trends may come and go, but great content will continue to be leveraged throughout the entire ecosystem of an organization—that makes it the most important trend of all.
Image: Omar Prestwich/Unsplash