New Layout Designs Are Trendy for Content Consumption, but Is This One That Much Better?
Oh, the current trends of journalism. There's the analytical and data journalism that is on the rise thanks to Nate Silver's Fivethirtyeight blog and now website; the freelancer journalist trend (though this will surely become a standard reality one day); and the 'death of news' trend that seems to come back into style with every media mishap (News Corp, 24 hour cable news).
The latest trend? Layout design. Everyone and their mother are trying to take advantage of the internet and change the way our eyes can read things.
The latest group riding this innovative design wave are two MIT Media Lab gurus who have recently unveiled plans for a more comprehensive, cut-the-crap journalistic style. Called Fold, it's used to provide context about the intricate and essential background information for each event, instead of a chain of clicking backlinks (another future trend: the death of backlinks). The creators explain it in a video found here.
Broken down into a cross and displayed like index cards, Fold wants to give back comprehensive and 'contextual' journalism with maps and summary paragraphs. Authors can give these contextual blocks info or an algorithm searches the web.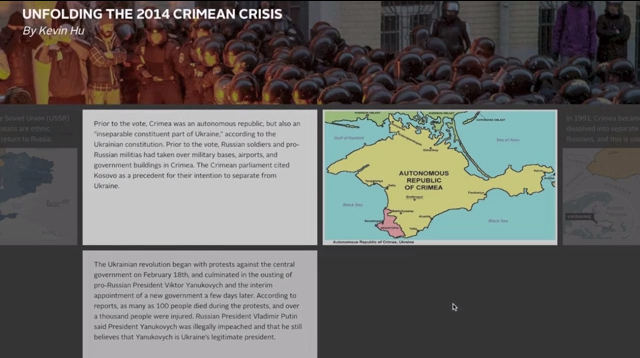 But it's not the first site implementing this kind of 'contextual' layout. Vox, which launched this year, also uses these card stacks to give background information and comprehensive reporting. Quartz uses its margins for annotations so that readers can leave comments on specific sections of the article. Even Google has summarized plots so you don't have to click on Wikipedia.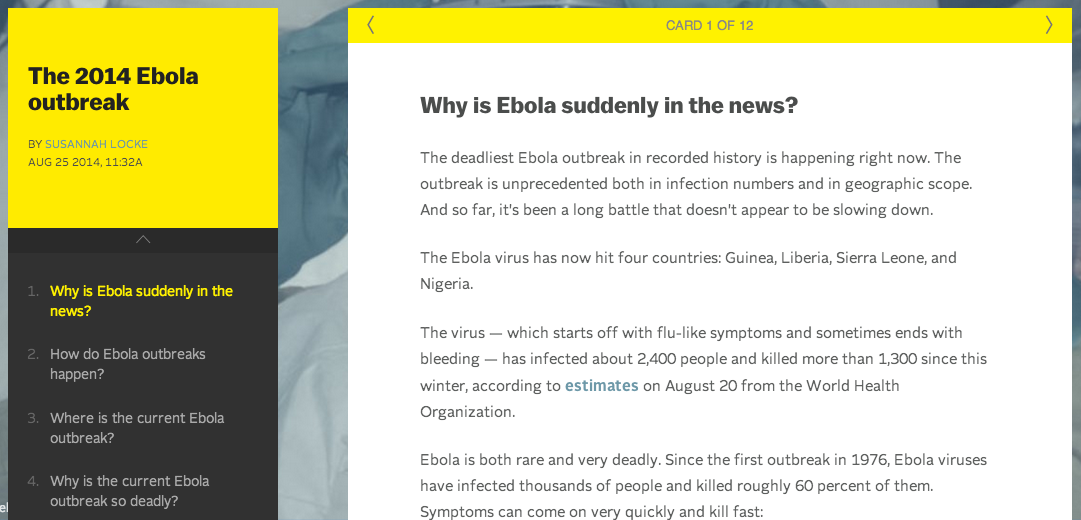 So what is Fold really bringing into the table since it isn't Vox or Quartz or Google? Fold wants to become a news site like Vox and Quartz and maybe even a smaller version of a tech empire like Google through content curation.
No matter how innovative the site's design, there are challenges. And questions.
Understand content consumption with Quietly Insights' reader engagement metrics.
1. Who will read it?
If the average attention span is 8 seconds now, who has time to sift through all of that information? Sure, there will be readers but not ones who really reads everything. (Though I do commend the effort to make it simpler to understand everything all in one place.)
2. What about its competitors for style like Vox and Quartz, who already implement similar structures?
Unless Fold wants to combine other trends like data journalism or analytical journalism, Fold will have to stand apart from the pack and quickly. As noble as the mission to change how we read online is, it's been done before. Within it's first few months, Fold will have to grow enormously.
3. Who will write for/use this site?
Are they hiring established writers, newbies, freelancers? That's one of the biggest concerns, honestly. In the age of the freelancer, wouldn't it make more sense for it to be a platform like Nieman lab points out?
Honestly, yes. Platforms are the future for journalists, since all of the jobs of the future will be freelanced anyway. If there is going to be any kind of design innovation, where authors are largely responsible for making these contextual blocks, authors should create their own blocks for their own stories. Platforms like Medium and Quietly build an audience and maintain their publishing identity. As great as this contextual journalism will be, there are challenges that face it.
What comes first to mind is this: people want context, but do they want that much context? Not everyone is willing to spend 15 minutes learning the history of Ukraine and Russia's conflict just to understand what happened. Of course, some people will, but what about everyone else? Isn't there a better way to combine short form and long form in the age of the goldfish attention span?
This is where the blog gets super biased because technically, I've done a lot of things Fold is trying to accomplish just by curating background information into lists at Quitely and for my own career as a freelancer. So I wrote a list about the current crisis in Ukraine and Russia.
An Overview of the Ukraine Crisis & Russia
By Emily E. Steck
Before we get to the crises, we must first look at Russia and Ukraine separately and together.
The Putin Doctrine

By Emily E. Steck

Putin's main goal since his various elections (he has been both President and Prime Minister) has been to recover economic, political, and geostrategic assets lost by the Soviet state in 1991. 

Russia: An Authoritarian Regime

By Emily E. Steck

Putin has an authoritarian regime by having control over nuclear power & oil, an unchecked military, the national media & forcing regional hegemony & international policy on its neighbors.

The New Putin Doctrine | Opinion

By Emily E. Steck

This fascinating opinion piece from the Moscow Times gives insight into how Russia views itself and the world, with propaganda punched sentences about the recent separatist movement.

Ukraine's Two Different Revolutions

By Emily E. Steck

In 2004-2005, mass protests – the Orange Revolution – brought a pro-West President Viktor Yushchenko. In the 2010 election, outrage occurred when pro-Russia Viktor Yanukovych was elected President.

A Deal That Breaks It All

By Emily E. Steck

With pressure from Ukrainians, President Yanukovych almost agrees to a closer trade ties with EU, but within months accepts a lifeline from Putin to buy $15 billion of debt & reduce gas prices. 

Ukraine Is Declaring Economic Independence

By Emily E. Steck

Violence erupts. Ukraine's President disappears. [The revolution](http://en.wikipedia.org/wiki/2014_Ukrainian_revolution) sparks the interim gov't to adopt the EU's reforms, cutting economic ties to Russia. 

Russia Moves In

By Emily E. Steck

Calling it a coup, Russia moved troops to the Crimean Peninsula. Ukrainian separatists/pro-Russian forces move into the mix. Putin has effectively declared war.

Ukraine Crisis in Maps

By Emily E. Steck

A current visual survey of the continuing dispute, with maps showing rebel and military movement, sites of recent violence, as well as political, cultural and economic factors in the crisis.

New Leadership & Support

By Emily E. Steck

Ukraine elects Petro Poroshenko as President with support from the US. Poroshenko discusses peace talk with Putin, but Russia later cuts off Ukraine's gas supplies. A ceasefire is held for a week.

The "Obama" Doctrine on Foreign Affairs

By Emily E. Steck

The US will get involved "when our people are threatened… when the security of our allies is in danger." If it is not a direct threat on the US, we "should not go it alone." 

Putin's Struggle Against Europe

By Emily E. Steck

With Putin locked in on his Ukraine pro-separatists movement, the US has moved to block economic deals with Russian countries. Will the EU follow? 

Jetliner Explodes Over Ukraine; Struck by Missile

By Emily E. Steck

"Malaysia Airlines 17, which was carrying 298 people onboard, was shot down by a surface-to-air missile that might have been Russian made, American officials said."

What We Know & Don't Know: Malaysia MH17 crash

By Emily E. Steck

"News and updates as international investigators move closer to the scene of Thursday's crash, where pro-Russian rebels have been limiting access."

Kerry Says Russia Trained Separatists with Missile

By Emily E. Steck

Secretary of State John Kerry stopped short of saying Russia provided the missile unit that downed Malaysia Airlines Flight 17.

Russia's Anti-West Isolationism: Op-Ed

By Emily E. Steck

The downing of a Malaysian Airlines plane is just the latest casualty in Russia's rhetorical war against the West and actual quasi-war with Ukraine. This op-ed puts things in perspective.

Where Does The World Go From Here?

By Emily E. Steck

Stay tuned. This list will update as more events unfold. 
Compiled from a variety of trusted news sources like the BBC and The New York Times, the list tells you the basic history between Ukraine and Russia post-Cold War without reading about it for a few hours or even more than 10 minutes. But if that's exactly what you want to do as a reader? Just click on the links I've sourced. They provide so much more context. Without using Fold, I've done exactly what they want me to do: curate news sources for contextual understanding.
Sites like Vox and Quartz are ones I respect for their thorough reporting and ones I often read. I'm not predicting that the Fold site won't produce some outstanding journalism or that it will produce some terrible journalism. Maybe I will grow to love it. But right now, I'm not sold on this product as an idea (which, granted, has the opportunity to grow beyond its initial introduction). I'm not saying I won't read Fold when it comes out in February 2015 either because I like reading a lot (seriously: I read everything I can) and I wish the best upon this publication because it's just trying to make better news.
But I'm also not sure the internet needs another site dedicated to longform, contextual journalism when there's already so many adequately doing this. And even if it were to become a platform for journalists, I'm still not sure it addresses some of the greater issues plaguing publishing, like readership and shrinking attention spans. Time will tell if Fold succeeds and evolves their platform.
Hopefully, like all trends, this one will stop being trendy.
Image Credit: gdiazdeleon via Flickr
Understand and deliver better content marketing with Quietly Insights.