What we can learn from Birchbox's branded publication '"The Magazine"
Birchbox—the brand that sends its subscribers a small box of selected beauty and skincare samples—has grown considerably since its early 2010 inception from two Harvard business graduates. Starting with a modest 600 subscribers in 2010, in only five years that number has risen to over 800,000 subscribers.
At the heart of their success? Their incredible editorial content. Their editorial efforts were there early—Birchbox had a Twitter handle and a blog before they had any customers, according to the brand's Editorial Director Mollie Chen. And it's paid off in a deep well of accessible, helpful content for their customers.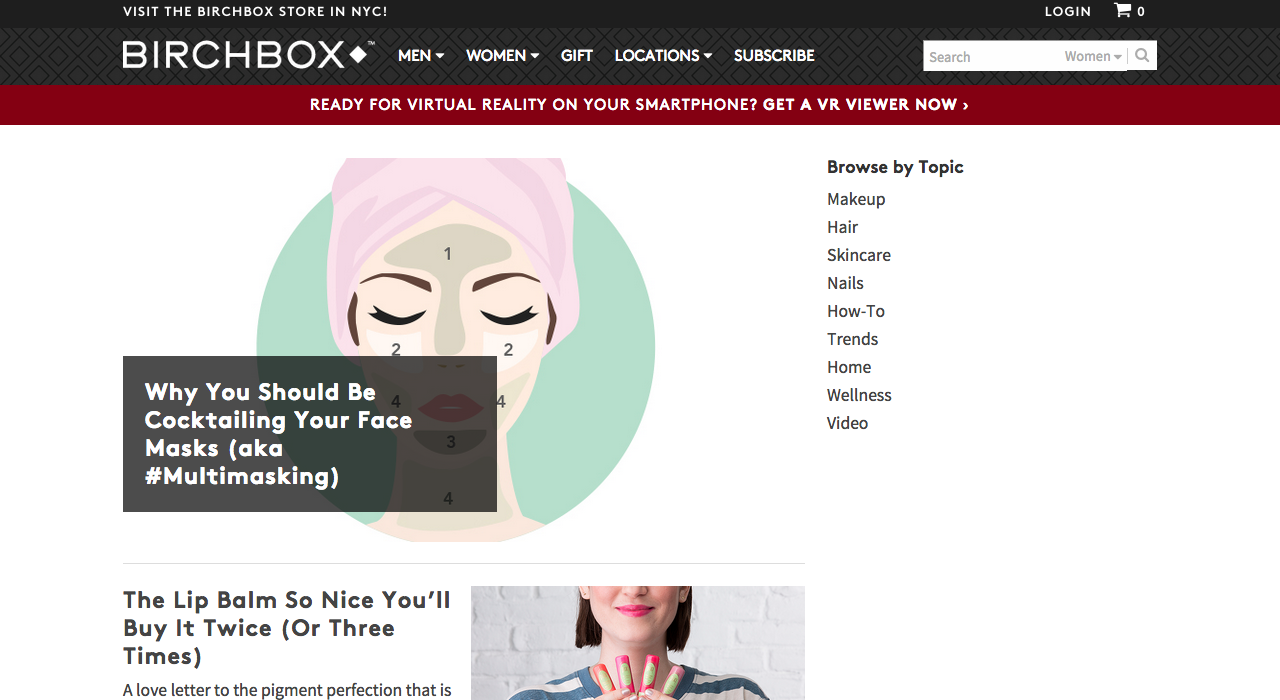 With a home-grown team of 17 editors, writers, photographers, and freelancers, Birchbox's The Magazine seamlessly integrates useful content with their impressive inventory of sample products. As Chen once noted, "My team isn't just a team of editors. They're strategic thinkers who understand marketing and who think about the overall business goals. They have a good sense of creative because they work super closely with our creative team. They think about distribution of their content because they work with the social team. Everything we do is cross-functional."
Verticals span from the traditional hair, skincare, nails, and how-tos of beauty magazines to edgier sections for the hottest trends for women, while their relatively new section for men focuses on grooming, skincare, and more. Though there isn't a print copy of The Magazine, the publication has big ambitions to immerse itself in its e-commerce site. "In general, with content marketing, I think what is so cool—and I hope we're working towards it—is what if we looked at Birchbox.com and there weren't separate areas for the shop and for the magazine? What if it all just flowed together? That's what I think is fascinating." Which, as of July 2015, is something Birchbox is doing.
A leader in the content marketing sphere for their editorial content and business savvy, here's what we can learn from Birchbox's branded publication:
Writing content about the company's products should not feel educational, not advertorial.
Content can help you understand your customers. "We think about it as a win for the customer: 'I found the best product. It's amazing and, not only did I find it through Birchbox, they taught me how to use it.' That's a great experience for the customer," Chen told MediaBistro in 2014.
Consider the context of your data. Birchbox's Bene Cipolla told NewsCred that Birchbox prefers to consider the "journey" of a user's experience with content—from consumption to purchase over a long period of time.
Content is equally as important as your product and service.
For more insight into branded publications, product updates, and industry happenings, follow us on Facebook and Twitter.