Content Brief: what happened in content marketing this August
Welcome to Content Brief, where we brief you on the latest news, chatter, and discussions in content marketing.
Another month gone, another month learned. Before we jump into prepping our holiday marketing and reviewing budgets for the next year, here's what happened in content marketing this August.
Facebook's war against clickbait
Once upon a time, Facebook feeds were cluttered with misleading headlines, exaggerated headlines, and other clickbait. Now, Facebook has begun to seriously wage war against publishers who promote clickbait with a new and improved anti-clickbait algorithm.
The anti-clickbait algorithm works like this: after manually entering tens of thousands of headlines, the new algorithm now searches for famous clickbait phrases—think, "This happened and you won't believe what happened next!"—in headlines. It's kind of like email spam filters. Facebook scores the clickbait on a scale of harmless to egregious. Then, it uses its scores to either reward or punish the page or site linked to by making those places less visible. The more clickbait and spam you post, the more it affects your page and/or site. The better headlines and content you post, the more likely Facebook will display it in your audiences' News Feed.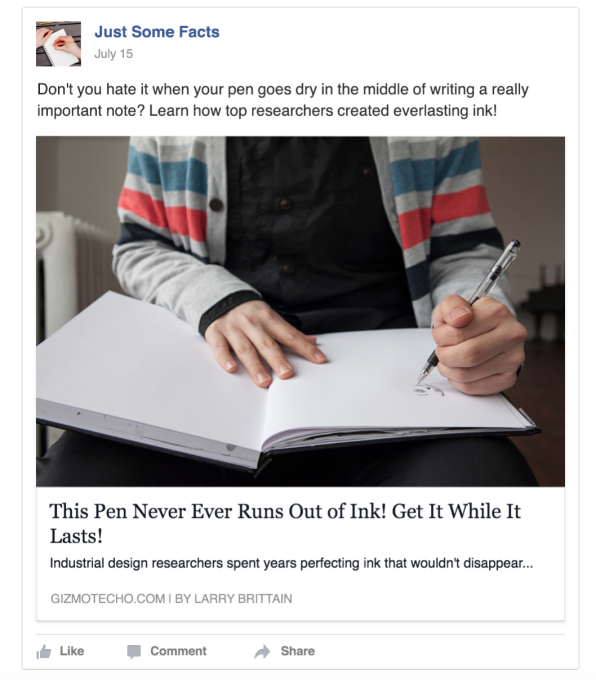 Facebook previously tried to take down clickbait in 2014 by tackling user behavior, but this approach is more likely to end clickbait's relevancy on the platform. With its latest anti-clickbait update, Facebook is drawing a line in the sand between spam and content. It recommits Facebook to servicing publishers and brands on its platform and aligns with Facebook's values, including authentic communication. If these anti-clickbait efforts work, brands and publishers could see major boosts in referral traffic. It's exactly like the time Facebook decided to stop promoting their apps and software to bring the focus back to content and the people who read them.
Quietly's take: Facebook battling clickbait is good news for everybody…except clickbait publishers.
SharedCount is shutting down
Don't know of SharedCount? Well, you or any marketing service you've used (including Quietly) has probably used them. SharedCount—the service that tracks URL and social media shares—announced it's shuttering by next year. SharedCount tried to make a business of collecting social sharing data, but it became difficult in recent years as more and more channels began to close off their APIs and discontinue open reporting capabilities.Twitter stopped showing share counts on its official embeddable Twitter buttons last year. Facebook is shutting down its open data and APIs soon. Snapchat doesn't release too many numbers; neither does Instagram. You're getting the idea.
So why are so many platforms closing their open reporting capabilities? A couple of reasons. One is to better attract advertisers with data that is exclusive to their platform. And two, these channels want to keep the data all to themselves; they don't want third-parties to collect and serve data to customers when these channels can do that themselves. Essentially, it's so that your company is the one with the keys to data and no one else.
Quietly's take: RIP SharedCount. Channels will continue to limit reporting abilities to its own platform.
Miscellaneous
That's all folks! For more on what happened in content marketing this month, be sure to subscribe to our newsletter.