5 questions about Creative Commons, answered
For publishers and contributors, there is nothing more fickle than trying to find a good image. One that is pretty, sharp, relevant and best of all free. It's a magical word, but luckily it isn't magic!
We ask and answer five of your most pressing questions about image copyrights and Creative Commons (CC).
1. What are Creative Commons licenses?
It's all about copyright. Because of copyright laws, the artist maintains the mantra of "All Rights Reserved." An artist retains all copyrights. Creative Commons is an alternative to this type of copyright license by allowing copyright owners to release some rights and retain others for other people to use. This is the very welcome use of "Some Rights Reserved."
Often, Creative Commons refers to work that is accessible to the public as long as the user complies with the artist's policy. All licenses require proper attribution, and the least restrictive license only requires attribution. This is done in an attempt to increase intellectual property rights.
2. What are the different types of licenses?
There are six types of licenses. Look for these little images next to the photos.


Attribution CC BY: this is the golden child of CC. It lets you tweak, remix, and distribute even for commercial use, so long as there is attribution.


Attribution-ShareAlike CC BY-SA: as long as you credit the original poster and license it under identical terms if you have made modifications, you are good to go. Wikipedia uses this form.


Attribution-NoDerivs CC BY-ND: this license allows for redistribution, commercial and non-commercial, as long as it is passed along unchanged and with proper attribution.


Attribution-NonCommercial CC BY-NC: you can tweak, modify and distribute as long as it is done non-commercially.


Attribution-NonCommercial-ShareAlike CC BY-NC-SA: this license lets you remix, tweak, and build upon the original work non-commercially, as long as you license your new creation under identical terms and credit them.


Attribution-NonCommercial-NoDerivs CC BY-NC-ND: the most restrictive of the licenses, you can only download and share the work non-commercially while giving credit.
3. How do I properly attribute material offered under a Creative Commons license?
There are several ways to do it. The Creative Commons ideal attribution is lengthy—featuring a title, a link to the author's page, and a link to the source page—and includes a license. Here's a photo of some elephants because why not: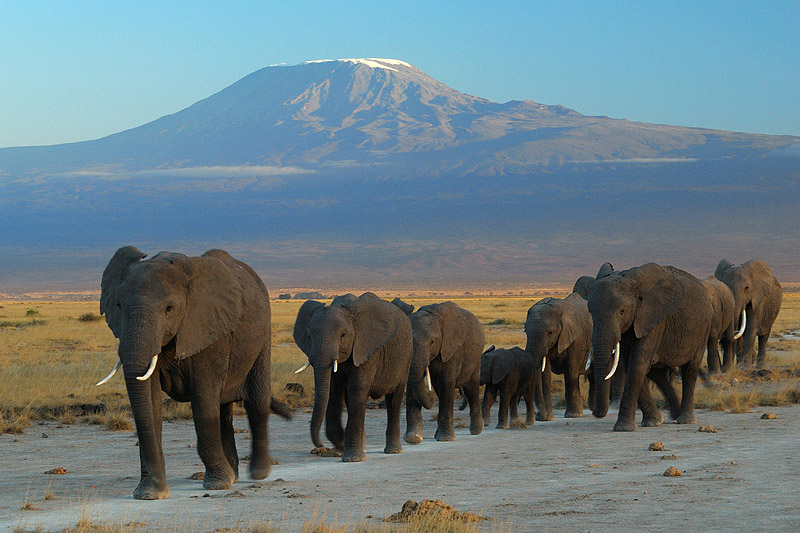 Creative Commons suggests attributing like this:
"Elephants at Amboseli national park against Mount Kilimanjaro" by Amoghavarsha is licensed under CC BY-SA 3.0
However, this is a more widely accepted attribution:
Photo by Amoghavarsha via WikiMedia/CC BY-SA 3.0
It credits the author, gives the author a link, and mentions what type of license it is. Depending on which license you use, you may want to consult this full list here.
4. Do I have to pay for these images?
There are technically three divisions of images we should talk about.
Public domain: no restrictions, no copyright claim (which is not possible in some countries)
Creative Commons: work may be used but only in compliance with the stated restrictions
Royalty free: a publisher buys a license once and can use the work according to the license
So if you are using Creative Commons or public domain images, no. The agreement with using Creative Commons allows you to use the image or work by crediting the owner and agreeing to the other rules of one of the six licenses. It is free as long as there is attribution. Royalty free, however, is something you pay for once and you can use several time or with a subscription.
5. Where can I easily find these license-free images?
If you are using Quietly to make lists, we have a built-in image search feature that connects with Flickr. Flickr, WikiMedia, and Unsplash are great resources for images. YouTube is useful for video and SoundCloud is useful for music.
If you want to find license-free images, check out this list. It includes Creative Commons, public domain, and royalty-free images. For more information on Creative Commons, please head over to their website. Happy searching!
Image: Kristina Alexanderson/Flickr